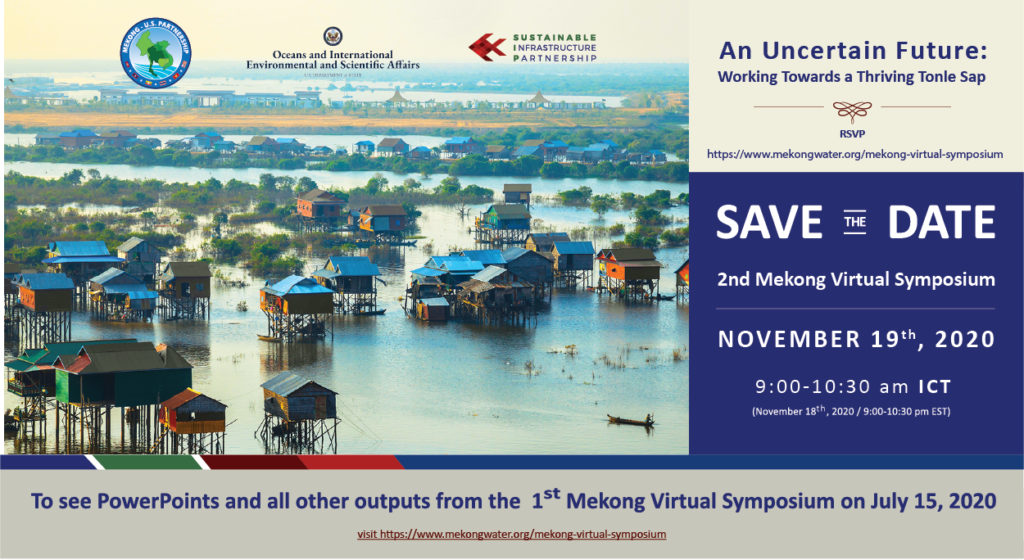 Pact Thailand is organizing the second Mekong Virtual Symposium: An Uncertain Future: Working Towards a Thriving Tonle Sap as part of the Sustainable Infrastructure Partnership (SIP). This event is hosted by the Bureau of Oceans and International Environmental and Scientific Affairs and the Bureau of Global Public Affairs at the U.S. Department of State.
The Symposium webinar will be held on Thursday, November 19, from 9:00 am – 10:30 am, Indochina Time (8:30-10:00 for Myanmar)/November 18, from 9:00 pm -10:30 pm Eastern Standard Time.
The program includes a networking virtual happy hour prior to the program at 8:00 am ICT (8:00 pm EST). Immediately following the program, participants will have the opportunity to join expert-led discussion breakout groups on specific topics from the webinar from 10:30 am-11:30am ICT (10:30 pm – 11:30 pm EST). A panel of experts will engage key stakeholders on the range of issues facing the Tonle Sap Lake in Cambodia: fishing and fish migration, plastics, floods and droughts, sediment, and dam impacts. The panel will be moderated by Ms. Chea Sila, and panelists include aquatic ecologist Dr. Zeb Hogan and plastic waste expert Dr. Jenna Jambeck, in addition to other panelists.
The organizing team will share event updates over email, including the speaker biographies and the list of breakout discussion sessions. This event is open to the public, and interested participants are encouraged to RSVP on https://www.mekongwater.org/mekong-virtual-symposium. 
Please contact Suparerk Janprasart at sjanprasart@pactworld.org with any questions.